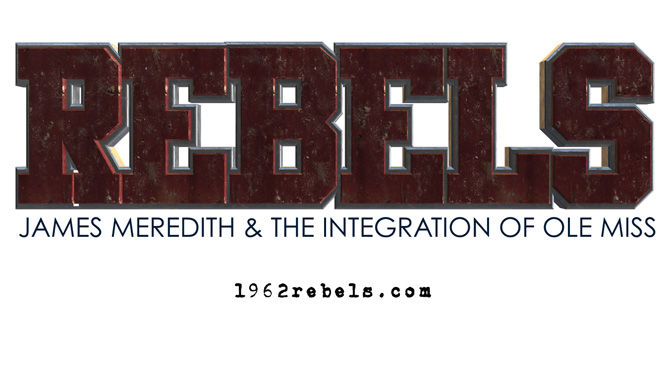 On Oct. 1, 1962, James Meredith became the first African-American student to enroll in the University of Mississippi, amid controversy and violence. The yearlong celebration of that important event began September 2011 and goes through Oct, 1, 2012 for the official "Opening the Closed Society" program.
The campus will remember this significant occasion with events that will provide tributes and acknowledgments to the progress in the past five decades.
As a documentary producer at UM Media and Documentary Projects, Matthew Graves wanted to commemorate the event on film with "Rebels: James Meredith and the Integration of Ole Miss." The 52-minute documentary will be shown at 8 p.m. Sept. 30 in the Gertrude C. Ford Center for the Performing Arts. Admission is free and open to the public.
Graves, who moved to Oxford from Abilene, Texas, seven years ago, was immediately interested in the Meredith story."I started reading about Ole Miss, I came across that story and I was really blown away by it," Graves said. "I thought it was an incredible story of courage and perseverance, and there are so many different elements to it that I thought were so intriguing."
After reading William Doyle's book "An American Insurrection," Graves was inspired to make a documentary.
"From early on, in one of my first conversations with Andy Harper, he asked me what projects was I interested in, and I told him I would love to do something about the integration of the university," Graves said. "I knew the anniversary was coming up and so I thought it would be a great opportunity to tell the story and begin collecting stories from people who were there. Since the technology and the cameras are better now than they were for the 40th anniversary, the quality of the image is better to capture the stories from people who, let's be honest, might not be with us for the 75th anniversary."
Graves is interested in collecting more material for the final film. He said he wants to hear stories from as many people as possible who were there for some part of it, even if it was someone sitting on the sidewalk and watching Meredith pass by in the car, or a professor who witnessed the tear gas clouds that hung around campus for weeks.
"I've read many different accounts of the story, but to actually get to talk to the people who were there and who saw it, there is something special about that, and I really hope that comes across in the final film," Graves said.
Showcased in the film are James Meredith, former students, FBI agents, U.S. Marshals, historians and religious figures.
"William Doyle's book really inspired me because it's such a riveting read and showcased the different elements that the story involved," Graves said. "It's really a profound moment in the history of this campus and the history of this country."
Graves is planning to have an interview station set up for people to share their stories as well.
"I do feel a sense of urgency to collect these stories and their history while they are here and while we can," Graves said. "I think it's important to know our history, to learn from it and to remember it. I hope in some way to capture the scope of the story and show how important it was to this university and to this country."
For more information, visit UM Media and Documentary Projects.