Remarks by David Sansing, professor emeritus, at the announcement of the Arch Dalrymple III Department of History on April 27, 2015 on the Lyceum steps: 
It was my good fortune to know Mr. Dalrymple. He was a man of great dignity, and decorum, and he lived a full life for 85 years. He was a man of significant means, and a giving and sharing man. The Dalrymple Family Foundation has made the town of Amory, and the world a better place. He devoted much of his time and energy to public education. He was a member of the Board of Trustees of the Amory School District and a founding member and president of the Mississippi School Boards Association. To read a biographical sketch of Arch Dalrymple is to marvel at the breadth of his varied interests and the sweep of his pursuits. Just one sentence will illustrate: "Mr. Dalrymple's business interests included farming, timber, real estate, oil and gas, heavy equipment, construction machinery, and for many years he served on the Board of Directors of Trustmark National Bank."
In addition to his business interests and his devotion to public education, Mr. Dalrymple was active in the Mississippi Historical Society and was its president in 1976. He also served on the Board of Trustees of the Mississippi Department of Archives and History with his classmate William Winter for more than thirty years. The Distinguished Director Emeritus of the Department of Archives, Mr. Elbert Hilliard, who served with Mr. Dalrymple for many years, is here today and I would like to thank him for joining us as we honor Mr. Dalrymple. Mr. Hilliard, would you please stand.
Arch Dalrymple III was in the best and truest sense of the term, a Southern Gentleman. His roots ran deep, he was a member of the Society of the Cincinnati. He loved history, but he was not bound by the past. He was a man of his time, and a man ahead of his time.
At the age of nineteen his collegiate career was interrupted when he entered the United States military service in 1943. When he was discharged in 1945 as a Second Lieutenant he returned to the University of Mississippi, where he majored in history and graduated in 1947. He studied under Professor James Silver, a circumstance that would reach long into the life of Arch Dalrymple. One of his classmates was another young veteran and a history major named William Winter. They knew well the impact James Silver had on their lives as students, but little did they know, nor could they have anticipated, what a major role they would later play in Professor Silver's life, and in the course of Mississippi history.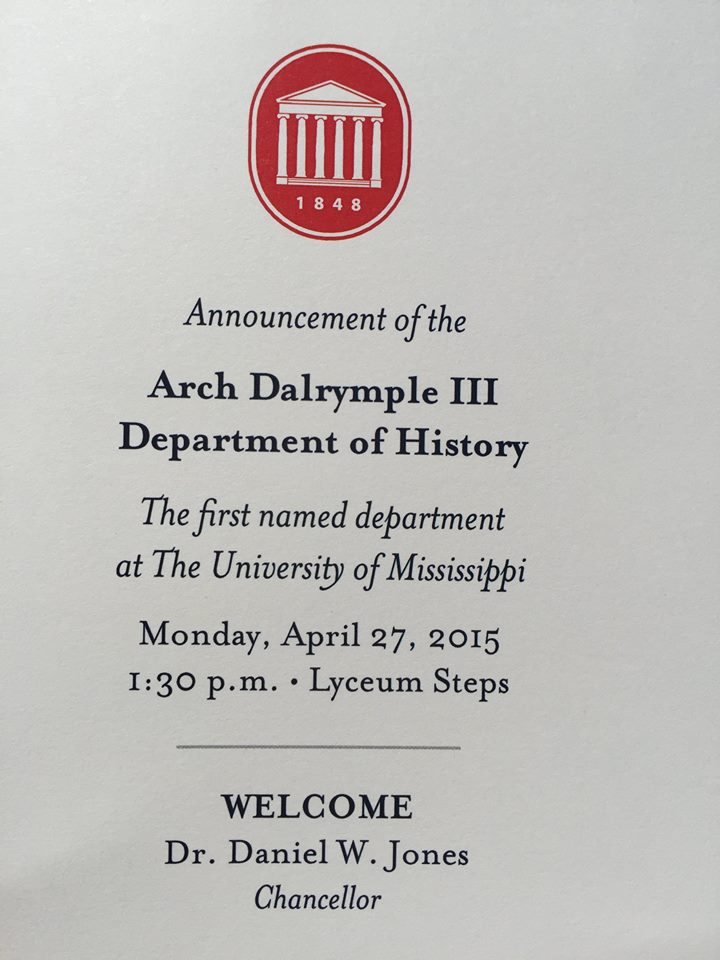 After their graduation William Winter became a prominent attorney, Chairman of the Board of Trustees of the Department of Archives and History, and Governor of Mississippi. And, as Arch Dalrymple was becoming increasingly prosperous and prestigious, they maintained an enduring friendship with Professor Silver, and with each other.
On one occasion, I think it was in 1949, the three took a trip through north Mississippi to identify historic sites where the Department of Archives could place historical markers. In the rural environs of Lee County, out from Tupelo, they were trying to locate the site of the famous Battle of Ackia where the Chickasaw Indians defeated French troops under Bienville in 1736. That historic battle virtually ended French dominion in the territory that later became Mississippi. The Daughters of the American Revolution had placed a small stone marker at the site many years earlier, but they could not find it. They stopped at a country store out in the middle of nowhere and Mr. Dalrymple asked the lady at the cash register if she knew where that great Indian battle had taken place. She said she did not. But she called her husband who was in the back of the store and asked him if he could tell these gentlemen where a famous Indian battle had taken place some where around here? Governor Winter, who told me this story, said the old gentleman came up to the front, with a funny look on his face, and said, "I've lived here all my life and there ain't been no Indian battle no where 'round here." They thanked him, left the store, walked down the gravel road a little way, and there it was, the DAR stone marker identifying the site of the Battle of Ackia. That encounter prompted Arch Dalrymple to support a statewide historical markers program.
In the late 1950s a much more significant experience linked Arch Dalrymple, Governor Winter and Professor Silver. In several speeches, one of which was titled, "The Lunatic Fringe and the Moderates—A Hundred Years Ago and Now," Professor Silver criticized the state's political leadership for resisting the impending racial and social changes, and he accused them of making the same mistakes their forebears had made on the eve of the Civil War.
An angry outcry from the press and politicians prompted the introduction of bills in the legislature, and resolutions on the College Board, to dismiss that "communist agitator up there at Ole Miss." While William Winter helped calm the waters among the politicians, Arch Dalrymple worked the College Board. There are two letters in Professor Silver's papers in the J. D. Williams Library from Arch Dalrymple to his former, and now infamous, history professor.
Mr.Dalrymple explained in those letters that he had persuaded Silver's detractors on the College Board not to push for his dismissal.
Professor Silver survived another day, in part because of Arch Dalrymple's support, and wrote another book, Mississippi, The Closed Society. Professor Silver's classic study, which he published in 1964, prompted a reexamination of Mississippi history by academics and by the public at large. Professor Silver's book was a prologue to what historians now call The New Mississippi.
And Arch Dalrymple was present at its creation.
And so today, we dedicate the Arch Dalrymple Department of History, at the University of Mississippi. I think Mr. Dalrymple would be so pleased that his memorial is not of bricks and stones, but of students and faculty, of research, teaching and learning, because he knew it is what happens inside these hallowed halls that endures and makes a difference. And I am certain that he would be pleased that the Dalrymple Department of History includes the William Winter Chair of History, and, that there is a memorial to his beloved Professor Jim Silver nearby.
On behalf of the students and faculty at The University of Mississippi, and for future generations, may I express to the Dalrymple Family our deep and abiding gratitude.