Previous selections include "Crooked Letter, Crooked Letter" and "The Immortal Life of Henrietta Lacks"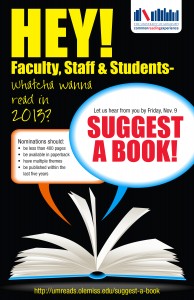 Now entering its third year of campus-wide participation, the University of Mississippi Common Reading Experience needs your help. Faculty, staff and students are invited to suggest a book for the 2013 Common Reading Experience committee. According to committee co-chair and Assistant Vice Chancellor for Student Affairs Leslie Banahan, nominations are vital to the nearly six-month long process of selecting a text.
"I encourage anyone and everyone to nominate a book for the UM Common Reading Experience. The success of the program depends on the quality of the nominations," Banahan said.
All freshmen will receive a copy of the 2013 selection at orientation, and it will make up a large part of the EDHE 105 Freshman Year Experience and WRIT 101 course curricula. Previous selections include "The Immortal Life of Henrietta Lacks," by Rebecca Skloot (2011) and "Crooked Letter, Crooked Letter," by UM assistant professor Tom Franklin (2012).
The committee asks that nominations be less than 400 pages and should be available in paperback. Nominations should also have multiple themes and be published within the last five years.
For committee co-chair Robert Cummings, another important quality of nominated texts is the availability of the author.
"Our first two selections were accompanied by memorable speakers who were willing to interact with our students at Convocation. Access to a powerful speakers adds a dimension to the first-year experience which our students tell us makes a big difference in how they engage the chosen book," Cummings said.
To suggest a book, visit http://umreads.olemiss.edu/suggest-a-book/. On Friday, Nov. 9, the committee will gather all nominations and begin to narrow down selections. Banahan says the committee received more than 100 title nominations throughout the process last year and expects even more for 2013.
"It's key that the university community, as a whole, feel ownership in this process. As a group of people dedicated to research, teaching, and learning, we're very passionate readers. So our role of the committee is to create broad access to the selection process," Cummings said.
For more information on the Common Reading Experience, visit the website.