Spanish
What does it mean to major in Spanish?
We train students to be global professionals with superior levels of Spanish language skills.  Spanish majors study the language, linguistics, history, and cultures of Spain and Latin America.  They gain the cultural awareness and intellectual strategies necessary to successfully navigate the interconnected and multicultural world in which we live.
Spanish is the spoken by over 592 million people and is the fourth most commonly spoken language in the world, with 41 million Spanish speakers in the US.  Our students attain strong language competence in listening and reading comprehension, speaking, and writing skills as well as the cultural knowledge for interacting with Hispanic people in professional and informal contexts.
The fact sheet provides a summary of the major, information about the program, and our alumni.  The degree sheet gives the specific requirements and a sample 4-year curriculum plan.
Minor in Spanish?
A minor in Spanish requires the completion of Span 303 and 304, and three more Spanish courses at the 300 level or above. A maximum of 9 credits for the minor may be taken through an approved study abroad program.
Why is UM a good place to study Spanish?
The faculty have areas of specialization ranging from Spanish literature and cinema, Hispanic sociolinguistics, colonial Spanish literature, Nahuatl, second language acquisition, Spanish-American literature, and women writers.
Spanish majors have opportunities to enhance their Spanish outside the classroom.
El café de los lunes, Spanish conversation group regularly meets on campus and off.
 The Office of Study Abroad provides access to dozens of programs in Spanish-speaking countries where students study a variety of linguistic and cultural topics.          
Faculty Profile
Dr. Heather Allen, Associate Professor of Spanish, earned her PhD at the University of Chicago.  Her primary research and teaching focuses on early modern Spanish American and Mesoamerican historiography, weeping and affect, and the cultural history of print in the Iberian Atlantic.
Her edited volume, Latin American Textualities: History, Materiality, and Digital Media, is an interdisciplinary look at textual history, textual artifacts, and digital textualities across Latin America from the colonial era to the present. Currently she is investigating the role of weeping and affect in the autobiography of Catalina de Erauso, a seventeenth-century Spanish girl who escaped a convent and fled to the New World where she successfully lived as a man.  Dr. Allen's research on Erauso teases out the entangled relationship between Erauso's faith, lacrimal excesses in moments of intense psychological and physical crisis, and need to present as male.
Why study Spanish at UM? "I think studying Spanish at UM is an excellent career choice because the wide variety of faculty expertise means that students can choose classes that fit their majors and their interests, or learn about a completely new topic, all while acquiring greater language competence."
What can Spanish majors do after graduation?
A liberal arts education empowers and prepares students to deal with complexity and change through a broad knowledge of the world.  They gain key skills in communication, problem-solving, and working with a diverse group of people.  People who fluently speak a foreign language have better job opportunities.  Related careers to Spanish include education, international business & banking, tourism, journalism, law, translation, foreign service, cultural affairs, military service, and health care.
Our undergraduate Spanish alumni are working in many different sectors of the economy, with the top six shown in this infographic. The largest groups are working in higher education, business & finance firms, and community services & non-profit organizations.
Alumna Profile
Wilson Helmhout (BA Spanish, with a minor in neuroscience '16)
"Studying poetry in AP Spanish in high school made me fall in love with the language, and then my first trip to Argentina my senior year made me fall in love with the culture. I wante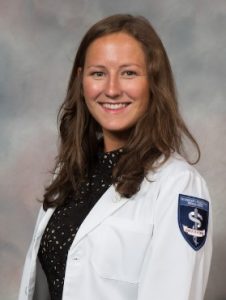 d to pursue my medical degree, and you can major in anything and go to medical school. So, I chose a subject about which I was passionate. Communication is a critical skill for physicians, and my Spanish will allow me to serve a larger, and more diverse patient population."
While working on her neuroscience minor, Helmhout joined the biology lab of Dr. Lainy Day where her research became an honors thesis and conference presentations. She participated in a medical mission trip to Bolivia where her Spanish helped with community health screenings and shadowing local physicians. To explore her interest in public health, Helmhout was a summer researcher with a Center for Population Studies project on improving birth outcomes in the Delta. For an internship in Clarksdale she compiled and presented community profiles to local leaders and nonprofit organizers. As a member of Delta Gamma fraternity, Wilson was an academic tutor and community volunteer.
During her first year of medical school at UM Medical Center in Jackson, Helmhout noticed a need for Spanish speaking health care providers. She became involved with the Spanish Club at UMMC and interacted with patients in Spanish at community health screenings. She is completing her internal medicine residency at UMMC.
Why study Spanish at UM?"Study Spanish because it's an invaluable skill that will be useful in any career track! I loved my Spanish classes in literature, culture, and cinema. The classes were smaller, discussions were thought-provoking, and the faculty took the time to get to know and help every student as we grew in our skill and love of the Spanish language."
For more information
Dr. Dan O'Sullivan, Chair of the Department of Modern Languages
Department of Modern Languages
C-115 Bondurant Hall
The University of Mississippi
University, MS 38677
(662) 915-7298 | dosulliv@olemiss.edu