Public Policy Leadership
What does it mean to major in public policy leadership?
Public policy leadership, the only interdisciplinary undergraduate program of its kind among SEC schools, is a study of public policy and leadership that prepares high-performing students for positions of leadership in an increasingly complex world.
Turning ideas into action is the focus of the public policy leadership major. Students combine the study of public policy with the study of the leadership qualities necessary to plan and implement successful policy. The interdisciplinary curriculum incorporates economics, geography, history, philosophy, political science and psychology.
PPL majors gain a broad knowledge of public policy and skills in policy analysis, organizational leadership, social science research, critical thinking, written communication, oral communication, consensus building, and decision-making. Students acquire an understanding of the ethical imperatives of leadership, and a clear appreciation of the global nature of responsible decision-making.
Why is the University of Mississippi a good place to major in public policy leadership?
The faculty of this interdisciplinary department have Ph.D. degrees ranging from political science, geography, public administration and policy, and philosophy.  Their areas of strength include civic engagement, information technology in public administration, ethics, regional development, environmental policy, economic policy, food policy, non-profit organization, social policies, and moral responsibility.
In partnership with the Trent Lott Leadership Institute, the department offers enriching experiences to students through interactions with policy makers/practitioners, summer study abroad, and internships.  The Washington Internship Experience allows students to live, work, and study in our nation's capital for a semester.  Summer Lott/PPL study abroad experiences have included Argentina, Czech Republic, Israel, China, Mexico, South Africa, and South Korea.  Students pursue internships in government (White House, U.S Congress, Supreme Court, State Legislatures, and local governments) and  in areas such as finance, technology, medicine, education, politics, media affairs, non-profits, science, and law enforcement.
The Lott Leadership Institute offers scholarships to entering freshmen with exceptional leadership and academic records who will pursue a B.A. degree in Public Policy Leadership. The scholarships provide $10,000 per year for four years.
Faculty Profile
Dr. Nidhi Vij Mali, Assistant Professor of Public Policy Leadership, earned her Ph.D. in Public Administration from the Maxwell School at Syracuse University. Her research focuses on the use of information technologies in public administration, and social welfare policies, such as health policies in a global comparative context. She is interested in the impact of the technology on bureaucratic processes, collaborative governance, and community public participation. She is also interested in developing impact evaluation designs and implementation for social programs.
Among her current projects, Dr. Vij Mali is excited to work in exploring how telehealth in Mississippi can be used in improving maternal health outcomes.  She teaches PPL 310 public policy design and analysis and PPL 210 Public Policy Analysis and Quantitative Methods, and was recently awarded the Howell Family Outstanding Teacher of Year Award by the College of Liberal Arts.
Why study Public Policy Leadership at UM? "The Public Policy Leadership major is a unique program like no other. Through an engaging and challenging curriculum, students not only learn about different facets of public policies, but also emerge as a peer leader on campus."
What can public policy leadership majors do after graduation?
A liberal arts education empowers and prepares students to deal with complexity and change through a broad knowledge of the world.  They gain key skills in communication, problem-solving, and working with a diverse group of people.  Related careers to public policy leadership include government, law, policy analyst, natural resource manager, legislative researcher, nonprofit and NGO administrator, or project development analyst and manager.
The PPL alumni work in many different sectors of the economy, with the top six shown in the infographic to the right. The group is working in government, particularly Capital Hill. The second largest group is community services and non-profits, particularly national offices of non-profit organizations.
Alumna Profile
Christine Dickason (BA in PPL '15)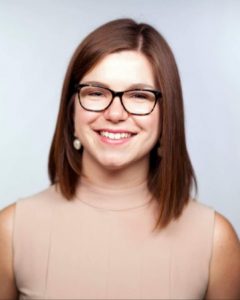 "I grew up in an active political family, but my focus shifted to policy when I volunteered as an ACT tutor in Memphis public schools. I attended school 30 minutes away, but saw drastic differences in educational quality and access. It made me question the wide educational gaps."
Christine was a founding member of the UM Food Bank and a leader with the Associated Student Body, Ole Miss College Democrats, and Mississippi First. She presented her ideas about education at a national conference and her honors thesis included a documentary film on college preparation and student aspirations in MS public high schools. Christine was also a Truman Scholarship finalist.
After graduation Christine served as former First Lady Michelle Obama's Deputy Director of Correspondence until the end of the Obama administration. "It was in a once-in-a-lifetime experience that I never expected, but it taught me so much—from how the highest levels of the federal government operates to how to help plan an entire trip to Yosemite National Park for the First Family. Most importantly, it taught me to be flexible with my plans and stay open to incredible opportunities."
While earning her MA in Public Policy at George Washington University, Christine has worked at the Government Accountability Office, the Center for American Progress, and now, the Global Development Incubator. "I'm still exploring my career options, but I plan to get my Ph.D. so I can research education policy and reach a broader audience to inspire not only public discourse but public action—something Dr. Eric Weber, a former PPL professor, inspired me to pursue."
Why study public policy leadership at UM? "Public Policy Leadership is an incredibly unique program that is only offered at a graduate level at many schools. It allows you to build enduring relationships with excellent professors. Through the program, I was able to present at a national conference, intern in D.C. (twice!), travel to local farms to learn about food policy, and take a unique, creative approach to my honors thesis. It provides a solid foundation to build a variety of careers, whether it be participating in Mississippi Teacher Corps, working for a Senator, or making your way to the White House!"
Whom should I contact to learn more?
Dr. Mark Chen, Chair and Professor of Public Policy Leadership
Department of Public Policy Leadership
105 Odom Hall
The University of Mississippi
University, MS 38677
(662) 915-7347 | ppleader@olemiss.edu