Psychology
What does it mean to major in psychology?
Psychology is the study of the basic laws and principles of human and animal behavior; it seeks to understand what motivates people and why people behave the way they do.
Psychology majors take courses in a variety of subfields, such as social, cognitive, personality, abnormal, developmental, and behavioral neuroscience. They also learn the research process: experimental design, data collection, analysis, and interpretation. Psychology majors gain a broad knowledge of human behavior as well as skills in statistical analysis, research, testing, writing, observation, record keeping, surveying, scientific reasoning, and scientific methodology.
The fact sheet provides a summary of the major, information about the program, and our alumni.  The degree sheet gives the specific requirements and a sample 4-year curriculum plan.
Minor in psychology?
Many educational and career paths are enhanced by a knowledge of social science, particularly in the human behavioral questions explored in the field of psychology. A minor in psychology consists of six psychology courses, allowing maximum flexibility to pursue the areas of psychology that interest you the most.
Why is UM a good place to study psychology?

The faculty have areas of specialization that include clinical, cognitive, developmental, experimental, health, neuroscience, and social psychology.
Students have the opportunity to gain experience in the field through service-learning and experiential courses. They can work with faculty on research while earning credit towards their degree. Students can also gain experience as teaching assistants or by completing internship experiences while earning credit towards their degree.
The UM chapter of Psi Chi, the national organization for students in psychology, provides volunteer opportunities in community organizations and preparation for graduate school. Along with the psychology club, students can engage with each other and with the community.
Take part in the study abroad course – Ecology, Culture, and Youth Psychology in Tanzania – with Dr. Laura Johnson.
Faculty Profile
Dr. Stephanie Miller, Associate Professor of Psychology, Director of Experimental Graduate Program, and Provost Faculty Research Scholar for Institutional Transformation, earned her PhD in Developmental Psychology from the University of North Carolina at Greensboro. She studies cognitive and social development across the lifespan, with an emphasis on early childhood. She examines how children come to control their thought and behavior (e.g., delaying gratification, problem solving) and what supports this development. In addition, her work focuses on how this control relates to other social and cognitive processes, like social understanding and memory. She teaches developmental psychology, statistics for the behavioral sciences, and research methods.
Dr. Miller has projects examining the emergence of toddlers' cognitive control and the possible social developments that may support this control, like parenting and language. Into preschool and school age, she looks at how this more developed control aids functioning in everyday life, such as the role cognitive control plays in memory, creativity, and friendships.
Why study psychology at UM? "Students who pursue psychology have many opportunities to gain experience outside the classroom. Many of our students join research labs where they get to work closely with faculty and student research teams conducting, presenting, and disseminating innovative research in psychology. There are also a number of service learning courses, internships, an active honors society, and study abroad opportunities allowing students to expand and tailor their study of psychology to fit their goals. These experiences applying psychological knowledge outside the classroom help prepare students for a number of careers and the further study of psychology upon graduation."
What can psychology majors do after graduation?
A liberal arts education empowers and prepares students to deal with complexity and change through a broad knowledge of the world.  They gain key skills in communication, problem-solving, and working with a diverse group of people.  Related careers in psychology include health care, behavior analysis, education, counseling and therapy, rehabilitation services, social work, drug/alcohol education, human resources, advertising, law, management, systems analysis, business, sales, urban planning, and public relations.
The undergraduate psychology alumni work in every sector of the economy, with the top six shown in the infographic above. The largest sectors for their employers include community services/non-profit organizations, business and finance firms, healthcare, higher education, STEM employers, and government.
Alumnus Profile
Nathaniel Greene (BA psychology '16)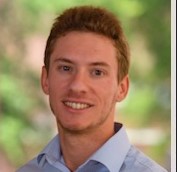 "My experience was not the most straight-forward. I began as a pre-pharmacy major but found my true passion after taking an honors psychology course. The courses felt more engaging, and I was learning something that I enjoyed. If you are unsure of your major when you first come to Ole Miss, I would say, give it some time. Wait until you find a course or a subject that really engages you."
Nate was an UM First Scholar and Ronald E. McNair Scholar so he was involved in community service, leadership development, and research. He presented research relating basic psychological needs satisfaction in the parental relationship to students' worries about college at the Society of Personality and Social Psychology conference in San Antonio. He also researched basic needs satisfaction in relation to headache occurrence.
Since graduation Nate has been pursuing the PhD degree at the University of Missouri where he studies age-related changes in human memory. His long-term career goal is to work at a research university to continue his research and train aspiring students.
Why study psychology at UM? "As an undergraduate, you couldn't ask for a better, more hands-on introduction to psychological sciences. The faculty are devoutly interested in their subject areas; their breadth of knowledge infuses its way into the courses and research classes. The training you can obtain is exceptional if you take the opportunity to really connect with one or more professors and work with them."
For more information
Dr. Rebekah Smith, Chair and Professor of Psychology
Department of Psychology
301 Peabody Hall
University, MS 38677-1848
(662) 915-7383 | psych@olemiss.edu