Classics
What does it mean to major in classics?
The study of classics includes every aspect of the ancient Mediterranean world, with exploration of ancient languages, literatures, history, art, and archaeology.
Classics majors gain a complex view of the ancient Mediterranean world and explore their own world as they do so. They address questions of human and historical significance through the works of the Greeks and Romans; understand the modern cultural world by recognizing its roots in the past; know their own language better by learning Greek or Latin; explore the world through study abroad; and strengthen their ability to read, communicate, observe, and think analytically.
There is a choice of three emphasis areas: Latin, Greek, or Classical Civilization. The department boasts a vibrant and close-knit community with lots of events throughout the year to keep you involved in classics beyond the classroom.  There are opportunities to study in the Mediterranean through archaeological digs, study tours, or whole semesters abroad.
The fact sheet provides a summary of the major, information about the program, and our alumni.  The degree sheet gives the specific requirements and a sample 4-year curriculum plan.
Classics Minor?
A minor in classics requires 6 courses of Greek, Latin, or Classical Civilization courses, with at least 3 courses at the 300 level or above. Students must complete an emphasis in Greek, Latin, or classical civilization. The Greek or Latin emphasis must include at least 3 courses of the chosen language (not counting the 100-level courses), with at least 1 course at the 300 level or above.  The classical civilization emphasis must include at least two Clc courses at the 300 level or above and can include up to 9 hours of Gr or Lat courses at any level.
Why is UM a good place to study classics?
The classics faculty have areas of specialization in Greek and Roman history and literature, art and architectural sculpture, archaeology, and digital humanities.
UM provides several major ways that students can engage directly with the Mediterranean region and its artifacts, to move learning outside of the traditional classroom and digital images. The department provides financial support for study abroad – archaeological digs, study tours, and whole semesters abroad are among the possibilities. There are faculty-led programs during 2 week semesters and summer terms, including study tours to Rome and archaeological field schools studying graffiti in Pompeii.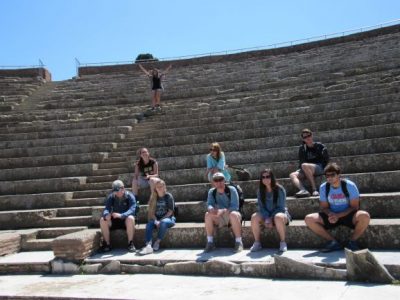 There are also UM-affiliated programs in Greece and Italy, with an advantage to our students in terms of admissions and financial aid because of departmental membership. The Intercollegiate Center for Classical Studies in Rome is an excellent, intense, classics-centered semester program. The American School for Classical Studies at Athens provides an introduction to Greece from antiquity through the modern period, and there is a competitive Eta Sigma Phi Scholarship to this program. Finally, Sunoikisis is a consortium that offers a field school at Kenchreai, the port of Corinth in Southern Greece.
Our students can work hands-on with a world-class collection of Greek and Roman antiquities in the University Museum. The David M. Robinson Collection of Greek and Roman Antiquities is one of the finest collections of its kind in the United States. In addition to the extensive collection of Greek vases of all periods, Greek and Roman sculpture, bronzes, terracottas, inscriptions, coins, lamps, and household objects, there are collections of potsherds dating from the Neolithic Age to the Late Roman Empire. In all, there are more than 2,000 objects in the collection and many need further study.  Students are encouraged to make use of these collections in their classwork and research.
Faculty Profile
Dr. Brad Cook, Associate Professor of Classics, earned his PhD from the University of Washington, and teaches ancient Greek and Latin and Greek history and culture. His research focuses on the texts and traditions relating to the Athenian politician Demosthenes and to Philip II and Alexander of Macedon.
With funding from a National Endowment for the Humanities fellowship, Dr. Cook spent a semester at the American School of Classical Studies in Athens, Greece, researching two ancient Greek inscriptions that are part of the Robinson Collection at the UM Museum. The gold inscription recording the treaty made in 202 B.C. between the king of Macedon and a city on the Dardanelles that controlled access in and out of the Black Sea. The bronze inscription records the freeing of a slave woman named Philista in northwestern Greece around the same time.
Why study classics at UM? "For anyone interested in ancient Greece and Rome, these two inscriptions are great examples of what is so amazing about Classics. You get to study the intricacies of the ancient Greek language, the ins and outs of ancient social structures and political life, and the creation and use of ancient artifacts. Each of these subjects is fascinating individually but with this sort of project you get to work on each facet while also reassembling the bigger picture and the stories that these texts and artifacts have to tell. And with these two inscriptions, the stories could not be more fascinating and also different: the gold one made for a king, the bronze for a freed slave, the gold one as a reminder to the king of his oath to help the other city if attacked (it was; he was busy elsewhere), the bronze as a personal, and portable, proof of freedom."
What can UM classics majors do after graduation?
A liberal arts education empowers and prepares students to deal with complexity and change through a broad knowledge of the world. They gain key skills in communication, problem-solving, and working with a diverse group of people.  Related careers to classics include educator, archivist, cultural affairs officer, travel consultant, foreign service officer, museum curator, immigration officer, doctor, lawyer, & librarian.
Our classics alumni are working in many different sectors of the economy, with the largest six groups shown in this infographic. The largest percentages are working in law, business and financial firms, and higher education.
Alum Profile
Libby Tyson (BA classics, English with creative writing emphasis '17)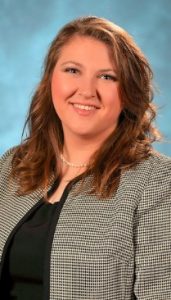 "I took my first Latin course in the 8th grade, and didn't stop until my junior year of college. My broader interest in classical cultures stemmed entirely from my taking Latin all of those years."
Libby was a member of the Mock Trial team, president of the University Lions Club, and an officer of Eta Sigma Phi Classics Honor Society. She was inducted into Lambda Sigma, Mortar Board, Phi Beta Kappa, and Phi Beta Phi honors societies. She enrolled in the honors class, Ethics in Archaeology, where she studied financial, legal, and political considerations in the collection and preservation of ancient artifacts. Libby was a founding member of the Archaeological Ethics Bowl team and an intern with the Robinson Collection of Greek and Roman Antiquities at the UM Museum. She wrote a Southern Gothic novella for her honors thesis.
After graduation Libby worked as an AmeriCorp volunteer in Washington, D.C. She earned her MA in Museum Studies from the University of San Francisco where she was the President of the Museum Studies Graduate Association. She has jointed the PhD in History program at American University.  While in that program she has been a fellow with the National Women's History Museum and worked with the Society of the Cincinnati, Inc.
Why study classics at UM? "The professors! My relationships with the faculty changed the course of my life. While a student, I enjoyed the close nature of the department. They knew me on a first name basis, and I appreciated the fondness and accountability that closeness brought with it. My courses were challenging but rewarding, and the professors knew how to push me in encouraging ways. The department helped us found an Archaeological Ethics Debate Team and to travel to competitions, which was the deciding factor for my career choice of Museum Studies."
For more information
Dr. Molly Pasco Pranger, Chair and Professor of Classics
Department of Classics
103 Bryant Hall
The University of Mississippi
University, MS 38677
(662) 915-7020 | mpranger@olemiss.edu