Art
What does it mean to major in art?
Students who major in art are creative thinkers who visualize the world around them to create contemporary and conceptual works of art.
Students choose between a more flexible Bachelor of Arts degree that allows greater compatibility with other areas of study or a more specialized, pre-professional Bachelor of Fine Arts. Students in the BFA degree choose to pursue a
Fine Art concentration (with emphases in ceramics, painting, or sculpture) or
Expanded Media Arts concentration (with emphases in graphic design or printmaking & imaging arts).
Students in the Bachelor of Fine Arts program have a portfolio review after completion of the foundational art courses. They create a senior exhibition to demonstrate a cohesive body of work for their portfolio. No matter the degree path, art majors expand their knowledge of art foundations, design, develop their talents, learn how to promote their art, and become adept at new technologies.
The fact sheet provides a summary of the major, information about the program, and our alumni. The  degree sheet for the BA degree and the degree sheet for the BFA degree give the specific requirements and a sample 4-year curriculum plan.
Minor in Art?
The Art minor introduces student to various medias in studio art. It is a minor that allows a focus on the studio area of your choice within the context of a liberal arts education. It consists of six art courses and one art history course at the 100 or 200 level.  The studio art requirements are 2-D Design, 3-D Design, Drawing I, and 3 art courses of your choice, including 2 courses (6 hours) at the 300-level or higher.
Why is UM a good place to study art?
There are outstanding faculty in the foundational courses and the studio areas.  The department provides outlets for student involvement outside of the classroom through various clubs.  Oxford and the north Mississippi/Memphis area is home to a range of art outlets. Students have the opportunity to engage in professional activities while in the program. Design students are provided opportunities to compete for logo and identity design contests within the University and in the local community. Art studio students exhibit their work on campus and at local and regional venues. Students may build their résumés and portfolios through internships.  A vibrant Visiting Artist program regularly brings visiting artists to campus annually for studio visits, artist talks, and demonstrations that provide students experiences working alongside a wide variety of artists.
 
Faculty Profile
Professor Philip R. Jackson, professor of art and head of the painting studio, received his MFA from Bowling Green State University. He also studied abroad at (SACI) Studio Art Centers International in Florence, Italy. Mr. Jackson is a contemporary realist painter whose work, which takes the common object and elevates it to an object of wonder, has been shown in many national and international juried, group, and solo exhibitions in more than twenty states and is part of several permanent art museum collections. His paintings have been featured in a number of premiere magazines, including Art in America, Southwest Art, American Art Collector, and American Artist Magazine. He is the recipient of many awards including the prestigious Elizabeth Greenshields Fellowship, and international fellowship for representational painting.
Why study art at UM? "The curriculum of the painting studio equips each student both technically and conceptually to articulate their ideas through the medium of painting. We expose students to current developments within the field and promote exploration while also making sure they have a strong foundation in the historical processes of the medium. Ultimately, our central goal is to find the strengths of each student and help him or her visualize their vision."
What can art majors do after graduation?
A liberal arts education empowers and prepares students to deal with complexity and change through a broad knowledge of the world. They gain key skills in communication, problem-solving, and working with a diverse group of people. Related careers in art include professional fine artist, educator, graphic design, web design, animation, display/set/exhibit design, art appraisal, production pottery, public relations, architectural modeling, textile design, art therapy, arts administration, museum administration, media buyer, marketing, & interior design.
Our undergraduate art alumni work in every sector of the economy, with the infographic showing the top six sectors for their employers. The largest group is working in arts, culture, and media, including professional artists and designers, museum staff, and interior designers. The second and third largest groups work for business/finance firms and STEM organizations (manufacturing, IT, energy, engineering firms, etc), with jobs ranging from management to designers, marketing, product designer, and creative director.
Alum Profile
Erin Napier (BFA art, emphasis in graphic design '07)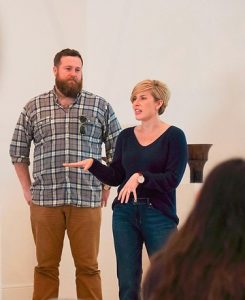 Erin Napier, a transfer student from Jones County Junior College, started a highly successful wedding stationary business, Luxury Luxe, which was launched to success through social media and later became featured in many top magazines. In this video she discusses the jumping off point of creating her own business.
And, her star continued to rise. Napier's creativity got the attention of a HGTV producer, resulting in the hit show Home Town with her husband Ben. On the program, Erin and Ben help residents of Laurel find and renovate homes. In 2016 they also opened the doors of Laurel Mercantile Co. in partnership with family and friends.
"Small towns are restored by regular people who embrace their story," Napier said at the 2017 Mississippi Economic Council annual meeting. "Every town has a story, and Mississippians are really good at telling stories. We are a storytelling people."
Virginia Chavis, Professor of Art, said Napier is an engaged alumna who visits art classes each spring as a guest speaker. "She is motivated, creative, and ahead of the curve in her ideas. While she talks about her successes, more importantly, she describes the path she took to get her where she is today. She explains to students the difficult decision she made in the beginning of her career to let go of her reliable paycheck in order to pursue her creative ambitions. In order to be successful in the creative world, one must be willing to put in long, hard hours. Erin is not afraid of getting her hands dirty or staying up late to get the job done."
For more information
Michael Barnett, Chair of Art & Art History
Department of Art and Art History
116 Meek Hall
The University of Mississippi
University, MS 38677
(662) 915-5816 | art@olemiss.edu