Art History
What does it mean to major in art history?
Art history is the study of works of art in their historical, social, and political contexts. Students learn about the significant artists and artistic periods in Western and non-Western cultures, the styles, trends, and developments in the world of art. They take courses in studio art to learn the fundamentals, learn about art theory and criticism, conduct research, and discern the hidden/not-so hidden ideas behind works of art. They gain proficiency with communicating their thoughts about art, and their critical thinking skills can be applied beyond the world of art.
The fact sheet provides a summary of the major, information about the program, and our alumni. The degree sheet gives the specific requirements and a sample 4-year curriculum plan.
Minor in art history?
Students majoring in history, anthropology, classics, or modern languages may want to consider a minor in art history because of the similar emphasis on cultural studies.
A minor in art history requires the completion of 2-D Design, and 6 art history courses, consisting of History of Art I and II, 1 course in ancient through medieval art history, 1 course in Renaissance through modern art history, 1 course in non-Western art history, and 1 course of your choice in art history.
Why is UM a good place to study art history?
The art history faculty have areas of specialization in Medieval art history and archaeology, 19th and 20th century American art, Early Modern Europe, Asian art, modern art and architecture, postmodern art, theory, and the history & theory of photography. There are also faculty in the Department of Classics and the Department of Sociology and Anthropology who teach cross-listed courses for art history students.
The UM Museum houses the David M. Robinson Collection of Greek and Roman antiquities, one of the finest collections of its kind in the United States. Covering the period from 800 B.C. to around 300 A.D., the collection contains Greek and Roman sculpture, Greek decorated pottery, inscriptions, architectural fragments, inscribed Sumerian clay tablets, small artifacts in terracotta and bronze, Roman copies of Greek art works, ancient surgical instruments, and Greek and Roman coins.
Students can also select the interdisciplinary minor in Museum Studies. 
Faculty Profile
Dr. Nancy Wicker, Professor of Art History and recent National Humanities Center Fellow, earned her PhD from the University of Minnesota. She has an interdisciplinary research focus on the art of Scandinavia during the Early Medieval Period, from the Migration Period of the 5th and 6th centuries through the Viking Age.
One project is Project Andvari, an online database to facilitate access to digital collections of art and artifacts. Art historians, literary scholars, archaeologists, and museum professionals from the UK, Denmark, Norway, Sweden, Germany, and US developed the system with grant assistance from the U.S. National Endowment for the Humanities. The project presents a constructive solution to the problematic issues of access and information-sharing that result from the nearly overwhelming explosion of digital resources that are now available.
Why study art history at UM?  "Art history is a wide-ranging interdisciplinary field that can lead to a range of career possibilities from the 'soft' humanities to the 'hard' sciences, from heritage tourism to art conservation, as well as the more obvious careers in teaching, art criticism, and museum work. Our art history classes are small, so students have the individual attention of professors. They often have opportunities to intern at the University Museum and to study abroad."
What can art history majors do after graduation?
A liberal arts education empowers and prepares students to deal with complexity and change through a broad knowledge of the world.  They gain key skills in communication, problem-solving, and working with a diverse group of people.  Related careers in art history include museum curator or educator, art critic or appraiser, or university teaching.
Our art history alumni are working in many areas of the economy. The top six sectors of the economy for their employers are shown in the infographic, with the largest group working in arts, culture, and media.
Alum Profile
Mattie Codling (BA art history, anthropology, 2013)
LinkedIn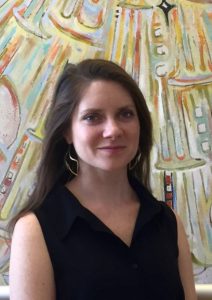 "My interest in art history developed in high school. I love how images can tell us so much about the human condition – thoughts, feelings, struggles are all interwoven to communicate with people long after their creators have passed on. Art history certainly has a mystery to it and I have always been intrigued by the processes we take to bring their stories to light."
Codling used her internship at the UM Museum to prepare for a museum career. She curated an exhibit of Southern Folk Art including artist research, choosing the pieces to illustrate their style, and designing the exhibit. She later worked as the assistant to the curator and interned at the Ohr-O'Keefe Museum of Art in Biloxi. After earning her MA in Art History with a specialization in Museum Studies at Florida State University, she worked at the Mission San Luis Archaeological Site in Tallahassee, FL. Codling is now the Director of Collections and Exhibitions of the Walter Anderson Museum of Art in Ocean Springs, MS.
Why study art history at UM? "You have a wealth of knowledge and expertise available through the art history faculty who are leaders in their fields. You also have the incredible resource of one of the top ranked university museums in the country. I formed dear friendships with my professors and museum managers; they encouraged and pushed me to test my boundaries. They continue to support and celebrate my career. If your path lands you in art history then be excited because you have every opportunity you could want – you just have to work for it."
For more information
Michael Barnett, Chair of Art & Art History
Department of Art and Art History
116 Meek Hall
The University of Mississippi
University, MS 38677
(662) 915-5816 | art@olemiss.edu