Anthropology
What does it mean to major in anthropology?
Study human life and culture by taking a holistic approach throughout time and across the world. Anthropology is a four-field discipline that studies society and culture of the past and present. Archaeologists study prehistory through physical remains; bioanthropologists study where humans came from and how we exist in different environments; cultural anthropologists study contemporary social issues; linguistic anthropologists study language in its social context.
Students gain skills in observation, analysis, research, critical thinking, writing, and interacting with people from all cultures. Anthropology trains students to be global citizens. Current employers are looking for students who have developed the multi-disciplinary and critical thinking skills necessary to better understand our globally connected and diverse world.
Why is the University of Mississippi a good place to study anthropology?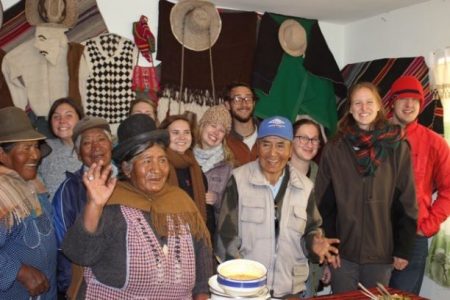 There are 13 anthropologists in the Department of Sociology and Anthropology.  Many hold joint appointments with the Croft Institute for International Studies or the Center for the Study of Southern Culture.
The anthropology curriculum integrates traditional classroom courses with experiential, hands-on methods courses, and a range of field schools. Archaeological fieldwork is conducted on sites in Virginia and Mississippi where students learn remote sensing applications as well as more traditional excavation methodology.  A Bolivia research methods field school introduces students to Bolivia's culture and a range of methodological skills such archival research, in-depth interviewing, and ethnography.
On-campus facilities include an anthropology lab and an archaeology lab where students can learn such skills as forensic osteology and ceramic analysis.  The Center for Archaeological Research is a hub of research activity and provides hands-on training for graduate and undergraduate students.
Faculty Profile
Dr. Catarina Passidomo is an Assistant Professor of Southern Studies and Anthropology. She earned her Ph.D. and M.A. in Human Geography and Environmental Anthropology, respectively, at the University of Georgia. Dr. Passidomo's areas of expertise include geographies of food and agriculture, human-environment interactions, place-making, and critical race studies.
"My current research and teaching goals are closely aligned; I am interested primarily in studying food systems to better understand and contest broader social systems and phenomena. Through work with my students and the Southern Foodways Alliance, I am investigating the connections between the food system and: migration between the Global and U.S. South; structural racism; economic inequality; and demographic and culinary changes in the American South."
Why study anthropology at UM?  "We use an approach that encompasses the four subfields of anthropology—archaeology, cultural anthropology, biological anthropology, and linguistic anthropology. Students receive rigorous training in each of the subfields as well as in anthropological theory. We include hands-on training where they learn the detailed methods involved in anthropological fieldwork and laboratory analysis. Importantly, faculty members devote significant time and energy to training our students and students receive focused intellectual attention."
What can anthropology majors do after graduation?
A liberal arts education empowers and prepares students to deal with complexity and change through a broad knowledge of the world. They gain key skills in communication, problem-solving, and working with a diverse group of people. Related careers in anthropology include archaeology, impact assessment, museum technology, immigration inspection, historical preservation, education, ecotourism, national park interpretation, documentary filmmaking, genetics counseling, health professions, law, international diplomacy, forensics, and technology design.
Our undergraduate alumni are working in most sectors of the economy, with the infographic showing the top 6 economic sectors for their employer. The largest group work in higher education, followed closely by business/finance, and STEM companies, which includes environmental services firms that employ professional archaeologists.
Alumna Profile 
Grace Myers (BA anthropology, minors in English, chemistry '15; MA in anthropology '17)
"My interest in culture began very young. I interacted with many different kinds of people in high school, and was obsessed with the TV show Bones.  Then, I did better in my first college anthro course with Dr. Robbie Ethridge than the ones in my major.  It really made me think and push myself to learn more. And, I liked the cultural side of anthro more than the dirt side. I love people and culture—what makes people think and act the way they do."
Grace was an organizer of The Big Event, an orientation leader, and president of the Residential Housing Association.  Within the department, she was involved in the Holly Springs Craft House project where she consulted archival documentation to find contextual evidence of antebellum daily life at an urban slave dwelling.  She dug for artifacts to give clues about the daily habits and foodways of the slaves who lived behind the Hugh Craft House, and gave presentations to school groups as part of the Behind the Big House tour in Marshall County.  Grace also earned her MA in anthropology at UM, with a thesis about food and immigration at a pop-up food market in an urban business park in Dublin, Ireland. Her career plans include marketing and business development because "the skills gained in my graduate program are easily applicable across many fields."
Why study anthropology at UM? "The department – anthropology and sociology together – is unique because of the professors and the curriculum. Additionally, all areas of anthropology are celebrated by the professors. They have the knowledge and experience to guide students from the beginning of their college career to graduation and beyond. Their care and attention is incredible."
Whom should I contact to learn more?
Dr. Jeffrey T. Jackson, Chair and Professor of Sociology
Department of Sociology and Anthropology
509 Lamar Hall
The University of Mississippi
University, MS 38677-1848
(662) 915-5230 | jacksonj@olemiss.edu