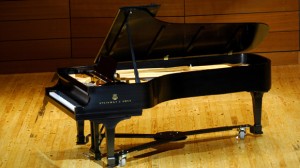 Middle and high school piano students are invited to take their musicianship to a higher level this summer at the University of Mississippi Piano Discoveries Camp, a weeklong piano camp for grades seven to 12.
Set for June 10-16, the camp is open to students playing at an intermediate level of skill or higher, and is designed to challenge them while they make new friends in a fun and engaging environment, said Ian Hominick, UM associate professor of music and camp director.
"The students get to make friends with others their own age who have similar tastes and skills," Hominick said. "They are introduced to a lot more about the piano than they would normally get from their private instruction back home,"
The camp fee is $500 for resident campers, which includes room and board, tuition, all recreational activities and concerts, and a Piano Discoveries T-shirt. For commuting campers, the fee is $450, which includes everything except room and board but does include lunch
Participants will learn new techniques, develop listening skills and have opportunities to be exposed to talented musicians both in classroom and concert environments, said Hominick, who leads the sessions with Stacy Rodgers, professor of music.
In addition, participants also get one private half-hour lesson as well as nightly concerts. All lessons, classes and concerts are conducted in the music building on University Avenue.
Hominick said attendees will also get to enjoy several recreational activities, including a pizza night, movie night and a double-decker bus tour of Oxford.
Canadian pianist Hominick began studying piano in his native Nova Scotia, attending Mt. Allison University, where he was a student of Jamie Syer and Patricia Elliot. Continuing his studies in the United States under the tutelage of internationally acclaimed pianists Jerome Rose and Earl Wild, he earned a doctorate in musical arts in 1991 from Ohio State University.
A Texas native, Rodgers holds degrees from Southern Methodist University and the University of Texas at Austin. He is active in pedagogical research and teacher training, and heads the university's  Community Music School. He is a founding member of the Oxford Piano Trio and performs extensively in piano duo with his wife, Diane Wang.
For more information on the Piano Discoveries Camp, contact Ian Hominick at ihominic@olemiss.edu or 662-915-1282.