Former UM writers-in-residence gather for 20th anniversary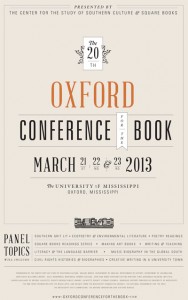 For those who love getting lost in a good book, discussing the role of storytelling or hearing authors read from their latest novel, the Oxford Conference for the Book offers something for everyone.
On March 21-23, the conference celebrates 20 years of bringing together writers, journalists, poets, publishers, teachers, students and literacy advocates, who will gather to talk about a range of topics relevant to the written word. With the exception of three meals/social events, all programs, including panels, talks and signings, are free and open to the public.
University of Mississippi graduate and author Ralph Eubanks, director of publishing at the Library of Congress in Washington D.C., will give the opening talk "Of Books and Libraries: Why Libraries, Publishing and Storytelling Still Matter" at noon March 21 in the Archives and Special Collections room on the third floor of the J. D. Williams Library.
"The Oxford Conference for the Book is like an intimate literary salon rather than a big, sprawling book festival," Eubanks said. "Although I love the National Book Festival, sponsored by the Library of Congress, it is sometimes a challenge to interact with the authors who attend the festival in any meaningful way. I would encourage anyone who values close interactions with writers, as well as fellow readers and students of literature, to attend the Oxford Conference for the Book."
During his talk, Eubanks plans to walk the audience through the role of the publisher as a storyteller, so that people can consider the role of libraries in new ways.
"I firmly believe that in the digital age, storytelling is the most important work of an editor and publisher," said Eubanks, whose most recent work, "The House at the End of the Road: The Story of Three Generations of an Interracial Family in the American South," was released in paperback by the University Press of Mississippi in November 2011.
"Stories are the way people arrange and recount experiences to the world so that others will listen attentively and perhaps learn something. As director of publishing at the Library of Congress, I find that thinking about what I do in terms of being a storyteller allows me and my staff to make sense of the vast collection of items – now 150 million items, not including books – that are held in our collections."
Other Thursday panels, held at the Overby Center for Journalism and Southern Politics, include Writing at the University at 1:30 p.m., moderated by Tom Franklin, UM assistant professor of fiction writing, and Writing Southern Grit Lit at 4 p.m., moderated by Kathryn McKee, UM associate professor of Southern studies and English.
Ted Ownby, director of the Center for the Study of Southern Culture, said one of the greatest things about the Oxford Conference for the Book is the way it brings together people who otherwise wouldn't be in the same place for the same conversation.
"It is a unique combination of scholars and poets and journalists and novelists, people in publishing and children's literature and book-selling and lots of readers," Ownby said. "I like how it brings together better-known writers with newer writers and people with large audiences and those of us who write for tiny audiences. I'm excited to see authors I already love, like Ron Rash, Jill McCorkle, Alice Randall and Ralph Eubanks, and I'm looking forward to seeing people who will be completely new to me."
On Friday at the Gertrude C. Ford Center for the Performing Arts, a young readers' program is planned for fifth- and ninth-graders, who have been reading Jewell Parker Rhodes' novel "Ninth Ward" and Mary Amato's novel "Guitar Notes."
Other Friday and Saturday panels at the Overby Center include readings by Kristopher Jansma and Owen King; examining recent civil rights movement books; literacy and the language barrier; and music biographies. Book signings are slated for Square Books.
Eubanks, who has been involved in previous conferences as both a panel member and an attendee, said his favorite part is the panels.
"I learn so much from the presenters and because of the size of the conference, the conversation continues after the panel is over," he said. "I always get great questions from the audience … , but I always have more in-depth discussions one-on-one with participants after my panel, often huddled in a hallway and at events through the weekend."
Ownby agreed, and said some panels will bring together people who already know each other, while others are with people who will have just met.
"There are two panels with authors who contributed to collections, one on eco-poetry and one on Grit Lit," Ownby said. "But then the panel I'm moderating on Saturday pairs a professor of Slavic languages and a New Orleans music writer, both talking about their books on Southern musicians and their place in the world."
The Mississippi Delta Cultural Tour, also hosted by the Center for the Study of Southern Culture, is set for March 17-20.