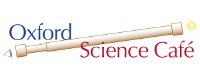 Oxford Science Cafe': Cellular differentiation!
Tuesday, January 22 from 6:00pm – 7:00pm at Lusa Pastry Cafe' new location on West Jackson Avenue at the Oxford Galleria. The event is open to the public and children are welcome.
Join science enthusiasts at Lusa Pastry Café for our next Oxford Science Café. Dr. Patrick Curtis, Assistant Professor of Biology (Microbial Biology) at the University of Mississippi, will present "The time and space of cellular differentiation."
All life is built around the process of replication, turning one thing into two things. At the level of cells, it's relatively easy to turn one cell into two identical cells. However, many living things are composed of differentiated cells (cells that have changed from one cell type to another). The process of cellular differentiation is very complex and involves precise timing of gene expression and placement of molecules at specific locations within cells. How all of the tiny tasks are accomplished and seeing how all of them fit together is difficult. I explore cellular differentiation by studying bacteria. Most bacteria grow by turning one cell into two identical cells, and we know a lot about how that works. I study bacteria that grow by turning one cell into two different cells. By figuring out how the bacterium has taken a system for making two identical cells and changed it into a system for making two different cells, we can learn the fundamental principles of cellular differentiation.
(NOTE NEW LOCATION!) Lusa Pastry Cafe', 2305 West Jackson Avenue, Suite 211, Oxford MS, 38655
For more information, questions or assistance related to a disability, contact Dr. Marco Cavaglia at cavaglia@olemiss.edu or 662-915-7642.