Tracie McMillian slated for public lecture Monday at Ford Center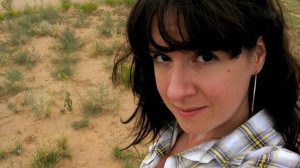 Tracie McMillan
The University of Mississippi's Center for Writing and Rhetoric and the Southern Foodways Alliance have teamed up to co-host a lecture next week by award-winning journalist Tracie McMillan on the realities of our country's food industry.
The lecture, at 7 p.m. Monday (Feb. 25) in the Gertrude C. Ford Center for the Performing Arts, is free and open to the public.
McMillan is the author of the New York Times bestselling book "The American Way of Eating: Undercover at Walmart, Applebee's, Farm Fields and the Dinner Table" (Scribner, 2012), which explores vital issues of food access and distribution in the United States.
To research the book, McMillan worked as a vegetable picker in California, a produce stocker at Wal-Mart in Detroit and an expediter at Applebee's in New York City. Along the way, as she attempted to live off the meager wages she earned, McMillan explored the question, "What would it take for all of us to eat well?"
"This topic is front of mind for a new generation of students now studying the political resonances of food in America," said John T. Edge, director of the Southern Foodways Alliance, an institute of the Center for the Study of Southern Culture. "In a region where agricultural labor issues have long been fraught, we're especially excited to hear McMillan's read on modern agricultural labor and how those insights apply to issues of race and class the South.
McMillan's undercover reporting for "The American Way of Eating" has won critical acclaim and resonated with tens of thousands of readers. In the New York Times, reviewer Dwight Garner wrote, "The book Ms. McMillan's most resembles is Barbara Ehrenreich's bestseller 'Nickel and Dimed.' Like Ms. Ehrenreich, Ms. McMillan goes undercover amid this country's working poor. … This is a voice the food world needs."
Before her lecture, McMillan is scheduled to visit Writing and Rhetoric composition classes, for which her book serves as a text. She will talk to students and answer their questions on the journalistic process.
"Student writers enjoy the opportunity to think critically about food; looking at how a resource, which is often taken for granted, moves from farm to table allows us to see a larger impact of collective choices," said Robert Cummings, director of the center. "And Tracie McMillan's project stands as an example of how students can find a passion in pursuing a question,"
"The American Way of Eating" was among six finalists for the university's Common Reading Experience for the 2013-14 academic year.
For more information on McMillan and her work, go to http://www.traciemcmillan.com/.