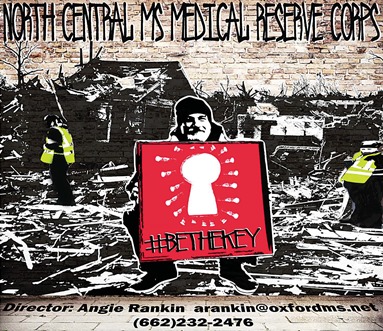 North Central Mississippi Medical Reserve Corps Coordinator Angie Rankin wanted a new strategy to recruit volunteers and to remind people that their role in disaster preparedness is important, no matter how large.
Out of this idea came the "Be the Key" campaign, which launched in April 2014 and is designed to send the message that people are the key to disaster preparedness by being prepared themselves.
To create artwork that would grab people's attention, Rankin worked with University of Mississippi art professor Paula Temple and challenged her Graphic Design II class to come up with three pieces of art each that reflected the main message of the campaign.
"This was my 'client related project ' for the class to give them a possible publication," Temple said. "The client proposed the project to them in the classroom and the students proceeded with creating the images.
"Every semester I have a non profit organization help out, this time it was Volunteer Oxford. First we researched what was already being used as images for disaster awareness and it was really bland or just type. Then the students could further understand why the client needed their images.
"They went to work creating some really vibrant and relative illustrations and the client chose four to use in the ad campaign."
The student artwork is on exhibition in the hallway of Meek Hall between the Department of Art office and Room 120 until early June.