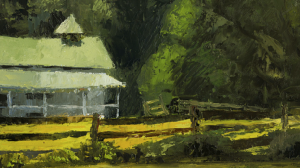 The University of Mississippi Art Department will present an exhibit of landscape paintings on Saturday (May 26) in Meek Hall.
En Plein Air: Painting the Mississippi Landscape features paintings by students and assistant professor of art Phillip R. Jackson .
Guest artist David Jewell will also be showing his work. The exhibit wraps up an intensive two-week landscape painting workshop.
Jewell will also be speaking at 2 p.m. in room 119. A reception will follow in room 218.
For more information about the exhibit contact the Art Department at 662-915-7193