"Here in Oxford, at the University of Mississippi, is one of the best Arabic programs in the country."
—JOHN CHAPPELL
Rhodes Scholar finalist and Arabic Flagship graduate

In 2018 the Department of Modern Languages was awarded an Arabic Flagship Program, sponsored by the National Security Education Program, a federal initiative to create a wider and better-qualified pool of US citizens with foreign language and international skills. The federally funded languages currently offered at 21 universities are Arabic, Chinese, Korean, Persian, Portuguese, Russian, and Turkish.
Our modern languages department is the only one in the nation with both Arabic and Chinese Language Flagship programs. Chinese was established in 2003.
"UM is a de facto hub of critical language learning in America," said Allen Clark, associate professor of Arabic and codirector of the Arabic Flagship Program. "We believe we have the number-one Chinese and Arabic Flagship programs in the US, unrivaled. We recruit a strong pool of language learners with the ambition and determination to make positive changes in all sectors—public and private—through a well-grounded, balanced view of the Arab region."
The Flagship provides funds to hire new faculty, add courses and experiences, and increase study-abroad opportunities.
"When UM started teaching Arabic in 2008, we modeled our program on the Chinese Flagship. We believe we've been Flagship-quality for years," said Daniel O'Sullivan, chair of modern languages.
"Majoring in Arabic at UM was a great decision because teachers and peers pushed me to excel," said Cynthia Bauer, who also majored in international studies. "I read Arabic literature and conducted ethnographic research. The program brought me to a level able to converse in Arabic with anyone on the street. It is hugely important for my career."

Where Will Flagship Take You?
According to the United Nations, Arabic is one of the world's five most-spoken languages. Students who possess Superior proficiency language skills have intercultural insights that aid careers in government, business, nonprofits, and other fields.
UM alumni work in international law, journalism, education, military, translation, intelligence services, medicine, and economics. Many receive master's or professional degrees. For example, Miller Richmond (2017) is at the Georgetown University School of Medicine; Alex Martin (2017) is seeking a PhD in economics at MIT; and John Chappell (2019) is earning an MA in foreign affairs at Georgetown University.
Arabic Flagship students commit to the program early by participating in intensive language study on campus to learn an entire year of Arabic the summer before freshman year.
---
"Our students are from all over the US and have extraordinary academic profiles. Aggressive risk-takers willing to go for it, they are a real credit and asset to the university."
—DONALD DYER
associate dean for faculty and academic affairs, distinguished professor of Russian and linguistics, and codirector of the Arabic and Chinese Language Flagship Programs
---
On-campus language instruction each semester begins with Modern Standard Arabic before dialect study—Egyptian, Levantine, and Moroccan—is introduced in year three. In the 4th and 5th years the focus is Media Arabic and Arabic Literature. Domestic Arabic coursework is supplemented by peer-to-peer tutoring, domain mentoring, cultural events, an annual language showcase, and two summers abroad in the MENA (Middle East North Africa) region. Most study with classmates at the Modern Arabic Language International Center in Amman, Jordan, and the Arab-American Language Institute in Meknes, Morocco. Others pursue scholarships from ProjectGO or the Critical Language Scholarship to study in Jordan, Morocco, or Oman.
---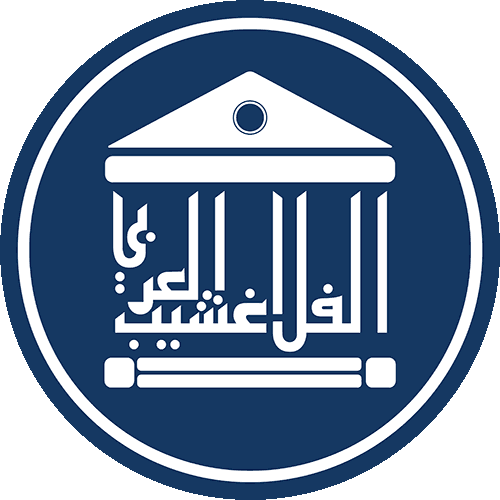 THIS SPRING UM WAS THE ONLY UNIVERSITY WITH A 100% ACCEPTANCE RATE TO THE COMPETITIVE, FUNDED 5TH YEAR CAPSTONE EXPERIENCE ABROAD. OUR STUDENTS TOOK THE FIRST, SECOND, AND THIRD SPOTS (OUT OF 42) IN THE NATION. THREE RECEIVED PRESTIGIOUS DAVID L. BOREN SCHOLARSHIPS FROM THE NATIONAL SECURITY EXCHANGE PROGRAM.
---
Arabic Flagship culminates with Capstone, a 12-month experience in Meknes, typically taken as a 5th year of undergraduate study. "Capstone places the student in the ideal language learning environment: setting, culture, and structure, coupled with tailored instruction and applied knowledge and interaction through internships," said Allen Clark.
"The Capstone program trains students to achieve superior—or nativelike—language proficiency. Students take their language accomplishments to another level and step into any career using Arabic full time," said Sydney Green (BA Arabic and international studies '18), program coordinator.
"Our status as one of the best Arabic programs in the US is proven through our students' success."
During the year in Meknes, studying Modern Standard Arabic, Egyptian, and Moroccan dialects, and practical courses such as translation, each student lives with a family and is paired with a Moroccan conversation partner. Participants engage in a community service project and an internship.
"Studying abroad is crucial to Arabic proficiency. I've learned about culture and myself studying in the Middle East and North Africa," said Caleb Ray, a double major in Arabic and international studies with a minor in accounting.
For more information, visit olemiss.edu/arabic.
LAUREN BURNS
Why studying Arabic?
"I've always been interested in the Middle East, but never thought about learning Arabic. When I applied to Ole Miss, I noticed the program and thought, 'That sounds like a challenge!' I immediately fell in love with the language and joined the Croft Institute for International Studies where I focus on Middle Eastern governance and politics."
Favorite experiences in the program?
"I still talk to my friends from Jordan every day! I'll never forget seeing 47 Soul (a Palestinian shamstep band) perform in the Roman Amphitheater in Amman, Jordan. Some of our Palestinian friends dabke'd (a traditional Palestinian dance) so hard that the soles of their shoes flew off."
Capstone year reflections so far?
"Morocco is different than Jordan! I'd never studied darija (Moroccan dialect) before, and caught on quickly. This summer we study darija, Modern Standard Arabic, and Egyptian dialect. Next year we take content courses at the University of Moulay Ismail in addition to regular language courses."
Career plans?
"I'm interested in water and energy sustainability as well as civil society development. I haven't decided which path to take, but know I'll use Arabic in either field."
Why study Arabic at UM?
"We achieve high levels in reading, writing, listening, and speaking; we also learn cultural norms and differences between the Middle Eastern countries and study several dialects. UM offers classes in Egyptian, Moroccan, Levantine, and Libyan dialects in addition to Modern Standard Arabic (MSA), giving us a huge advantage over those who only study MSA or one dialect."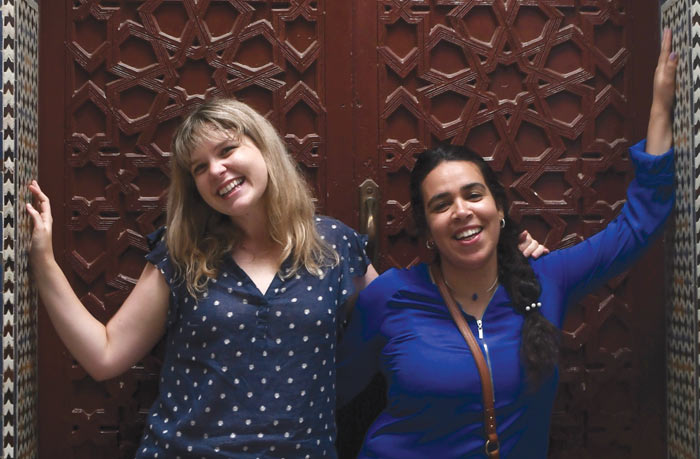 Lauren Newman (left) with her Moroccan language partner. LAUREN NEWMAN Why studying Arabic? "I initially chose Ole Miss because of the Croft Institute. Studying Arabic the summer before my freshman year, I realized the strength of the program. Knowledgeable, experienced professors made the intensive program fun, exciting, and rewarding. Arabic initially seemed intimidating, but I knew after that first summer Arabic would become an essential part of my future career." Favorite experiences in the program? "Going abroad is the best experience of the Arabic program. I studied two summers and a semester in Amman, Jordan, and I am now in Morocco. Finding cafés and restaurants to frequent, making new Arabic-speaking friends, traveling to different sites—they have been the best part of studying Arabic and of my college experience." Capstone year reflections so far? "Capstone is great! I'm surrounded by students who've made Arabic a priority, which creates a fantastic learning community. My professor is beyond amazing, and the program staff care greatly about our education and experience in Morocco. Other students are kind and encouraging, and I've made Moroccan friends who help me learn the dialect. I'm very glad I decided to attend!" Career plans? "I hope to attend law school and focus on migration, refugee, and asylum law. At some point, I plan to work with the federal government." Why study Arabic at UM? "Ole Miss has excellent professors who care about each student's language acquisition. The program goes above and beyond in providing resources and opportunities for students to improve their skills. Additionally, Ole Miss has a number of impressive programs that complement an Arabic degree, such as the Croft Institute and the Center for Intelligence & Security Studies. I am extremely happy, and I wouldn't change my college experience for anything."