HEADWAE recognizes academic achievement, contributions to higher education
FEBRUARY 28, 2018 BY EDWIN B. SMITH
University of Mississippi students and faculty were among the honorees at the 31st annual Higher Education Appreciation Day-Working for Academic Excellence, or HEADWAE, awards program Feb. 20 in Jackson.
Dion Armstrong Kevin III, a senior from Oxford majoring in public policy leadership, and James Robert Ware II, a fourth-year medical student, were the university's student honorees. John M. Rimoldi, professor of medicinal chemistry and environmental toxicology, and Molly Moore, assistant professor of nursing at the UM Medical Center, were the faculty representatives on the awards program.
"I was pleasantly surprised to find out that I would be honored with this award," said Kevin, Associated Student Body president. "It's a special experience to know that some of the state's most esteemed public servants recognize my contribution to higher education as a student.
"It gives me confidence to keep working toward the betterment of myself and higher education in Mississippi."
Moore said it is a great honor to represent the Medical Center.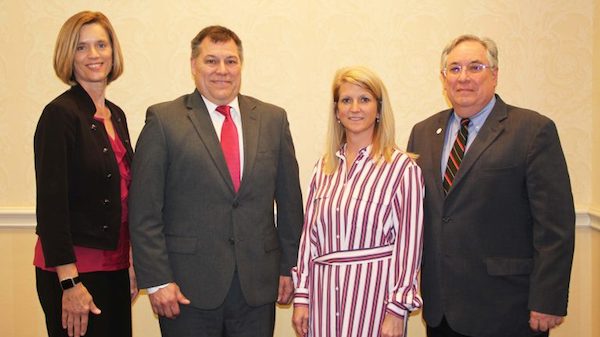 "It was amazing to be surrounded by so many people from across the state who are passionate about teaching excellence in higher education," Moore said. "It was a pleasure to be in the midst of such great company."
Rimoldi was awarded the university's 2017 Elsie M. Hood Outstanding Teacher of the Year Award for teaching excellence and exceptional student engagement, as well as the pharmacy school's 2017 PY1 Teacher of the Year. This is his third consecutive Distinguished Teaching Scholar award.
HEADWAE was established by legislative resolution to honor students and faculty from the state's public and private institutions of higher learning who have made outstanding contributions in promoting academic excellence.
The UM and UMMC honorees were joined by 62 others from Mississippi's 34 public and private universities and colleges.
The winners were welcomed by Secretary of State Delbert Hoseman at the state Capitol and given a tour of the historic building. They also attended an awards luncheon where Gov. Phil Bryant gave a keynote address.