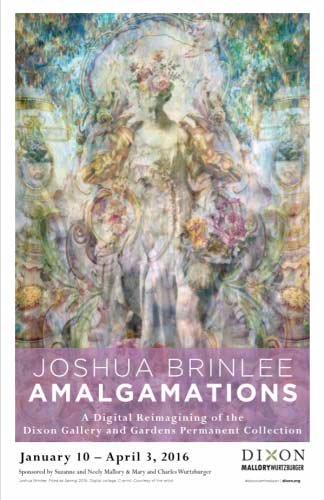 Amalgamations: A Digital Reimagining of the Dixon Gallery and Gardens Permanent Collection by Joshua Brinlee, assistant professor and foundations coordinator at the University of Mississippi Department of Art and Art History, is a series of work that gives the Dixon Gallery and Gardens permanent collection new life through digital manipulation. Brinlee combines and synthesizes the Dixon's exemplary collection of paintings, porcelain, and sculpture into new digital collages, restoring a different sort of originality to them.
The exhibition runs from January 10–April 3, 2016 with an artist lecture on Wednesday, January 13, from noon to 1pm and the opening reception on Thursday, January 21, from 6–8pm.
The Dixon, a cultural icon of Memphis, features an ample survey of American and French Impressionism, a well as a vast collection of German and English porcelain. Like most museum collections, the Dixon's artworks are divided by genre, medium, and historical period to create a cohesive vision that is consistent, predictable and familiar.
Over time, we can become desensitized to a museum's permanent collections, and to seeing certain periods and genres of art organized in such a traditional manner. As such, we tend to overlook the uniquenesses of these artworks. We may take these objects' presence for granted, or look at them as "types" we feel we already know. Alternatively, we may tend to attach our own subjective narratives (and thus, ownership) to them.
The Amalgamations series makes those familiar works unfamiliar again by taking objects from the Dixon collection and digitally re-imagining them. As exemplary permanent-collection paintings, porcelain, and sculptures are digitally synthesized, they bring a newfound appreciation to the work and restore a different sort of originality to them. This body of work thus tests Walter Benjamin's suggestion that while the "aura" of the original may be lost in an age of the ubiquitous reproduction of visual images, perhaps those systems of image reproduction (including digitization) may help restore a new sort of "aura" to these familiar images.
Joshua Brinlee, a Memphis-based artist, works in many media. Brinlee's digital work examines issues of appropriation, authorship, and originality in today's "Post-Digital" world.
The Dixon Gallery and Gardens is located at 4339 Park Avenue, Memphis, Tennessee. They are open Tuesday through Saturday from 10 a.m. until 5 p.m. and Sunday from 1 p.m. until 5 p.m.