by Samantha Abernathy
April 30, 2014
Courtesy of The Daily Mississippian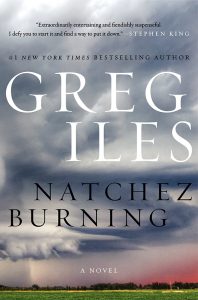 New York Times bestselling author Greg Iles will be showcasing and signing his new book, "Natchez Burning," which was released Tuesday, tonight at Off Square Books.
Iles has visited the city before for a book signing of his first novel, "Spandau Phoenix."
"I've been a Greg Iles fan for a long time," said Johnny Livingston, an Oxford resident. "His novels are truly something else. I usually read them more than once, and I try to get my wife to read them as well, but she likes more romantic novels. Although, she did say she will come with me to the book signing."
Born in Germany, Iles grew up in Natchez, and he graduated from the University of Mississippi (B.A. English) in 1983. While attending UM, Greg lived in the cabin where William Faulkner and his brothers listened to countless stories told by "Mammy Callie," their beloved nanny, who had been born a slave. Iles wrote his first novel in 1993, a thriller about Nazi war criminal Rudolf Hess, which became the first of 12 New York Times bestsellers, as stated on Iles' own website.
"He has been a very good friend to us and our audience," Square Books bookseller Teresa Spears said. "We are very excited to see him again and know that this will be a big event."
Oxford is the second stop on Iles' 24-stop nationwide book tour. The tour began Tuesday in Jackson, at the Lemuria Bookstore. During his tour, Iles will visit Arizona, South Carolina and Florida, and he will see many of his literary fans.
"I am actually a really big fan of Greg Iles," Oxford visitor Morgan Stacy said. "His books are so entertaining to me and always keep me on the edge of my seat. I will definitely be at the book signing and even some of my friends from Yazoo will be coming to attend."
According to Square Books's website, "Natchez Burning" is the "first installment in an epic trilogy that weaves crimes, lies and secrets, past and present, into a mesmerizing thriller featuring Southern mayor and former prosecutor Penn Cage," and is highly anticipated.
Known for his crime driven, action-packed novels, "Natchez Burning" is just as driven as Iles's other novels in this genre, and his Mississippi heritage seemingly offers him a helping boost of fans in Oxford.
"His books sell very well at our store," Spears said. "Our clientele loves supporting local novelists, and Greg Iles is definitely a fan favorite."
Square Books' signings are a part of the Square Books experience and bring in visitors by the carload. Greg Iles's book signing will be no different.
At 5:30 tonight, the book signing will begin with a reception that allows the guest to "mingle and chat amongst themselves" and enjoy the literary atmosphere that the store offers. After the reception, Iles will read an excerpt from his book. Later, he will answer questions and sign copies for his fans. Everyone is welcome to join Off Square Books tonight as it celebrates a beloved Mississippi novelists.