Alumni Association to Honor Seven at Homecoming for Achievement, Service
July 11, 2017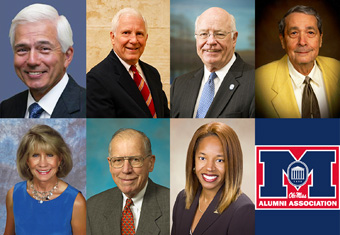 The Ole Miss Alumni Association is honoring seven distinguished alumni with its highest annual awards as part of Homecoming 2017. Created in 1974, the Hall of Fame honors select alumni who have made an outstanding contribution to their country, state or the University of Mississippi through good deeds, services or contributions that have perpetuated the good name of Ole Miss.
Inductees into the Alumni Hall of Fame for 2017 are: Don L. Frugé (BBA 67, JD 70) of Oxford; Walton Gresham III (BBA 71) of Indianola; Dr. James E. Keeton (BA 61, MD 65) of Jackson; Tom Pappa (BBA 57) of Jackson; and Mary Sharp Rayner (BAEd 64) of Oxford.
William F. Winter (BA history and political science 43, LLB 49) of Jackson will receive the Alumni Service Award for service to the University and the Alumni Association over an extended period. Candie L. Simmons (BBA 02, MBA 15) of Ridgeland, will receive the Outstanding Young Alumni Award, which recognizes alumni who have shown exemplary leadership throughout their first 15 years of alumni status in both their careers and dedication to Ole Miss.
The Alumni Association will host a reception for the honorees on Friday, Oct. 13, at 6 p.m. in the Gertrude C. Ford Ballroom at The Inn at Ole Miss. A dinner for the award recipients will follow the reception at 7 p.m. Those interested in attending the dinner should register in advance by calling the Alumni Association office at 662-915-7375 before 5 p.m., Friday, Sept. 29. Cost of the dinner is $50 per person, or tables of 10 are available for $450.